The Best At Sea Road Show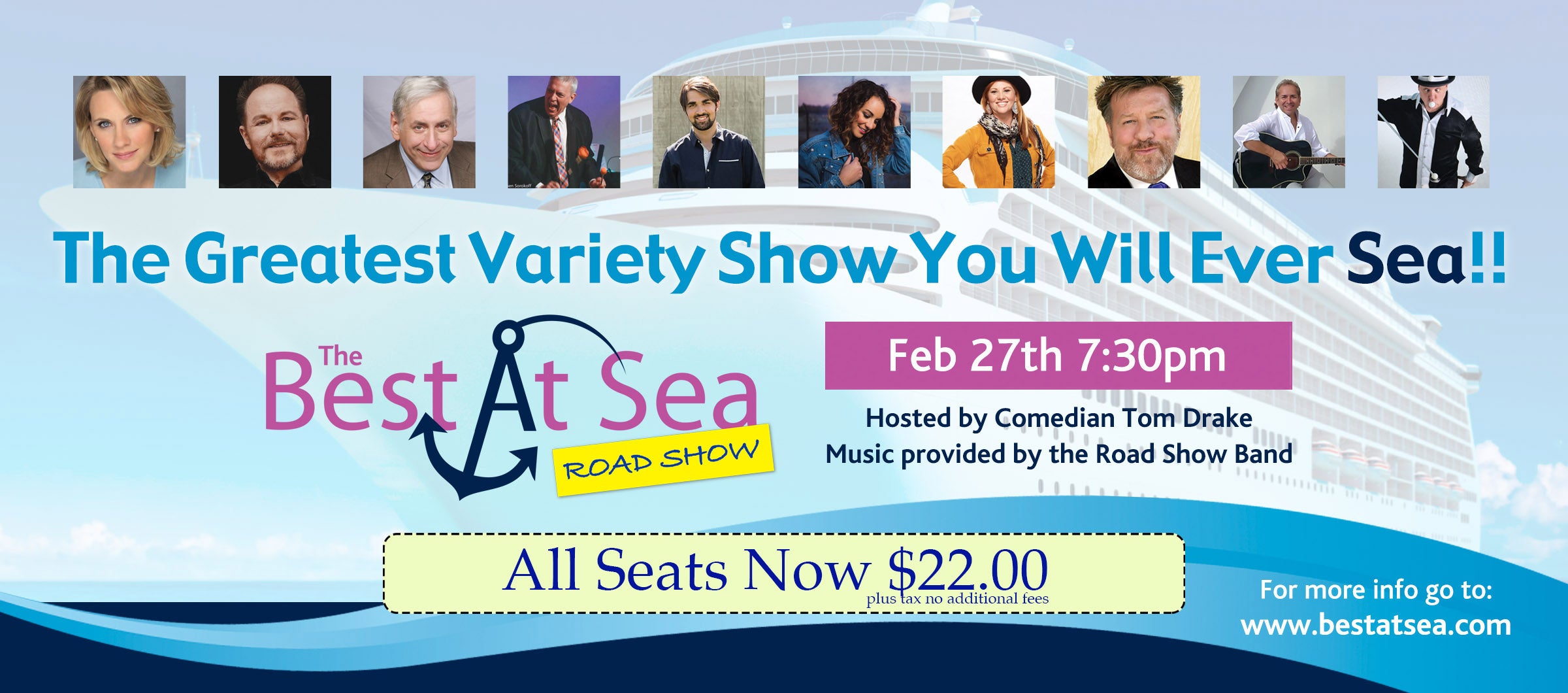 The Best At Sea Road Show
The Best at Sea Road Show
An All-Star Evening of Variety Entertainment
For people of a certain age, The Best at Sea Road Show would be like the Ed Sullivan Show on steroids. For others, it would be America's Got Talent without the judging and Howie Mandel.
Whatever you age, the Road Show offers something for everyone.
Country Music, Rock N' Roll, Broadway, Stand-Up Comedy, Comedy Magic, World-Class Juggling, and World-Class Instrumentalists.
Ever wonder what Santana sounds like on the xylophone? Don't miss this show!
Here is the Road Show 2020 line-up.
· From Nashville, world-class fiddler, multi-instrumentalist, and singer-songwriter Ryan Joseph who is currently touring with country legend Alan Jackson.
· Singer-songwriter Danika Portz, who recently completed her seventh Armed Forces tour entertaining our trips throughout the Middle East.
· Special guest Carrie Tillis, singer, songwriter, actress, and the daughter of country music Hall of Famer Mel Tillis.
· From South Africa, will be singer-songwriter Selkie. Fans of the television show The Voice will recognize Selkii from Season 16, where she was a popular member of Team Blake.
· From New York, Special Guest, Tony nominee and Theater World award winner Walter Willison.
· Acclaimed concert Pianist Elliot Finkel along with Ian Finkel, the World's Greatest Xylophonist, who will perform music from their show, The Great American Songbook.
· From Texas, Balde Silva, former lead singer and founder of the rock band Toby Beau. Balde will be performing his number one song, "My Angel Baby" and playing music from his show, "You are Never Too Old to Rock n Roll."
The Road Show will also include lots of laughs.
· Hilarious stand-up comedy with Tom Drake, whose act has been called "An Attitude with a Tie."
· Comedy Magic with legendary comedy magician John Ferrentino. John has performed on television over 50 times.
· The amazing out of this world physical comedy of Edge.
The seven-piece Road Show band will provide the music.
The Road Show running time is 2 hours with an intermission.