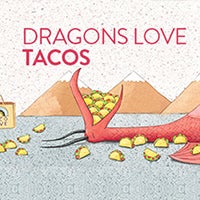 Dragons Love Tacos and Other Stories
Monday, October 16th at 10:00 & 11:45 a.m.
Performed by TheatreworksUSA, New York
Theatreworks brings another of its hugely popular musical revues based on favorite contemporary children's literature. In Dragons Love Tacos we see that dragons may be fun, but we learn not to give them tacos, or they'll never leave! Ride the range with Cowgirl Kate and Cocoa, meet Mercy, an exuberant pig who loves to drive, in Mercy Watson Goes for a Ride. And finally, our young audience will experience a young girl's self-discovery in The Dot.. All of these stories come to life on the stage, while students will have a great time and learn some small life lessons, too.
Suggested for grades K-3. Curriculum: Language Arts, Music, Theatre, Health
"We thoroughly enjoyed the performance…My students said they wish they could watch the whole thing over again!"..Teacher Owensboro, KY