Sandy Hackett's The Rat Pack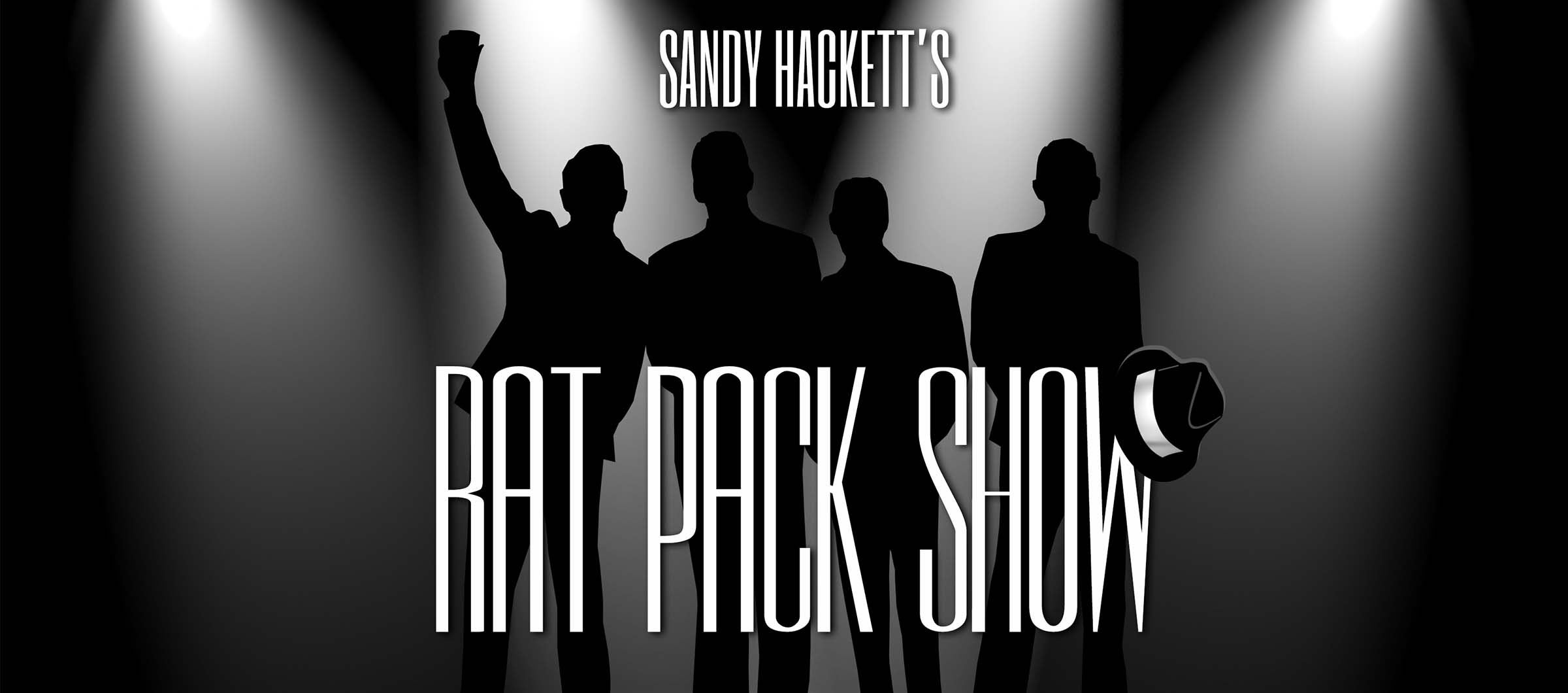 Sandy Hackett's The Rat Pack
"BEST Show of The Year!" Writes BROADWAY WORLD – Kauffman Center for the Performing Arts.

The TELEGRAPH & GAZETTE writes, "There are several Rat Pack shows out there, but if you're
looking for authenticity instead of imitation, Sandy Hackett's Rat Pack Show is the one to see."

There is ONLY one REAL Rat Pack Experience! It's not until you indulge in Hackett Miller's critically acclaimed production, that you begin to realize why "Sandy Hackett's Rat Pack Show" is the Presenters' Choice for the finest performing arts centers across the country. Having their own personal connection to these iconic legends has allowed the producers to tell this story like no one else can. Sandy Hackett's father, legendary comedian, Buddy Hackett was great friends with Frank
Sinatra, Dean Martin, Sammy Davis, Jr. and Joey Bishop ‐ and together, they all made history. Sandy Hackett was Joey Bishop's ("Uncle Joey's") choice to portray him in any production involving the legendary Rat Pack. Only "Sandy Hackett's Rat Pack" can bring to life that magical moment in time that everyone wanted (and continues to want) access to. Producer, Lisa Dawn Miller, has her own personal connection to the Rat Pack. Her father, legendary songwriter Ron Miller, wrote "For Once in My Life" (recorded by every member of the Rat Pack) and many other huge hits. Together, Hackett and Miller have created a truly authentic, avant‐garde theatrical production based on the musical and comedic legacy of the Rat Pack, capturing the relationship, respect, love and timeless laughter of that once‐in‐a‐lifetime moment in history. Hackett Miller, armed with their passion and the most
extraordinary musical and creative team plus the comedic genius synonymous with the name Hackett, "Sandy Hackett's Rat Pack Show" is the most successful live theatrical production of its kind, touring throughout the U.S. in hundreds of performing arts theatres to great critical acclaim. Priding itself on its uniqueness and originality, this show makes you laugh, cry and leaves you wanting for more!
"'Sandy Hackett's Rat Pack Show' is different for two reasons. First: It is not just a revue; it's a musical with a narrative. Second: Its star actually grew up around Frank Sinatra, Dean Martin, Sammy Davis Jr. and Joey Bishop." ‐YAKIMA HERALD
Now audiences can experience this critically acclaimed, hugely entertaining theatrical production which includes exciting new arrangements of classic songs and original, never‐before‐heard songswritten by the late, best‐selling and multi‐platinum award winning songwriter, Ron Miller, along with recorded voiceovers made exclusively for this show by the late, comedic genius, Buddy Hackett.