NSB Now!
The happiest and safest performing arts program in South Florida is BACK! Next Stop Broadway is thrilled to welcome back students with our safe and socially distanced classes in Acting, Singing, and Dancing for ages 6 and up. Classes run from March through May 2021 and culminate with an end of season staged performance to be shared digitally.
2021 Recital USB's On Sale NOW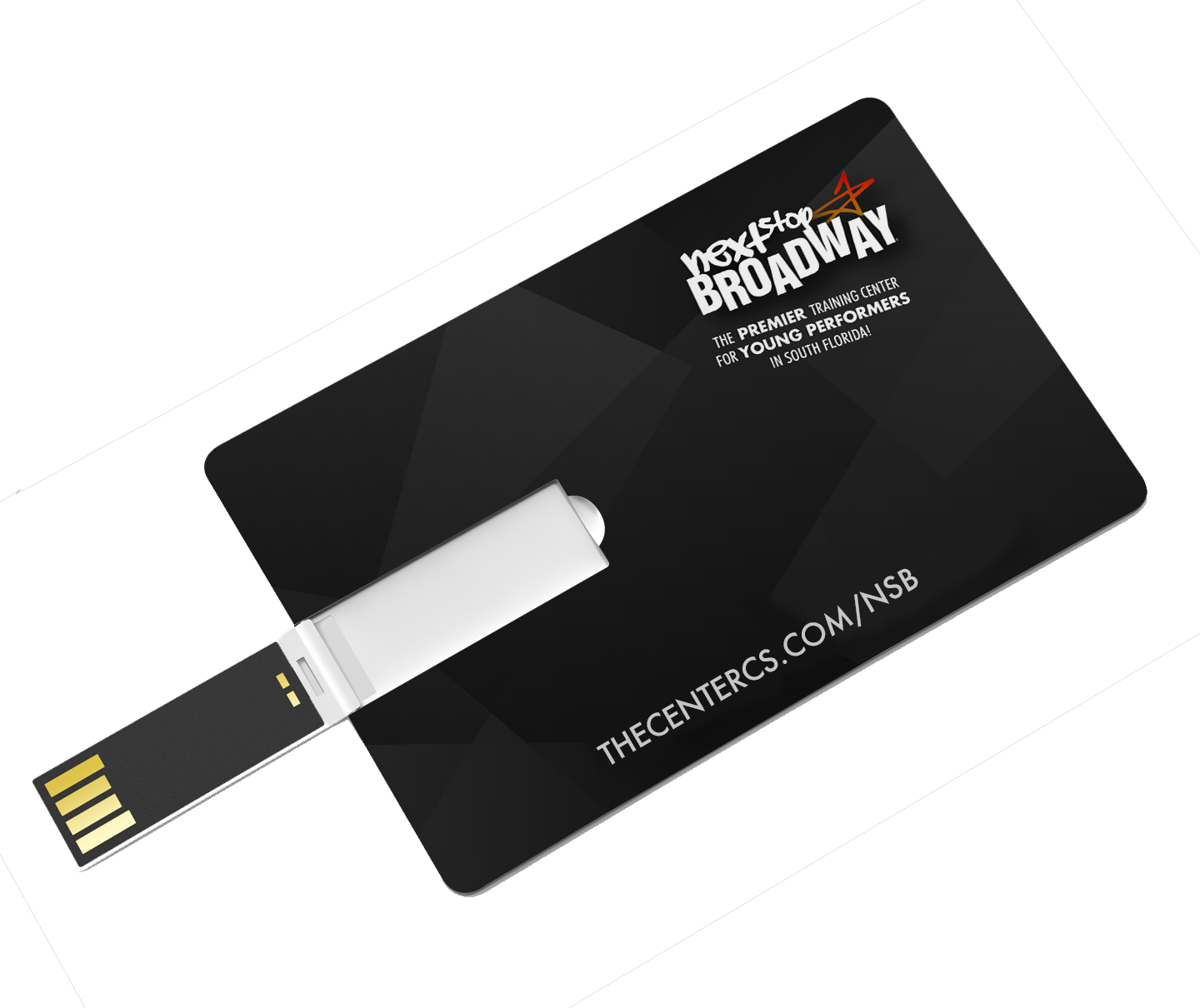 Families will be able to experience the 2021 Recital by purchasing a USB containing recorded video files of each class's performance. This USB can be plugged right into your TV or computer for viewing. Performances by Singing Now, Hip Hop Now, Acting Now, NSB JR's, The Jerel Experience, and Scenes w/ Cynthia will all be included on the USB.
The USB's will be available for pick up in the NSB Office starting on Monday, June 7.
Classes

All group classes are $80 per month. Multiple class discount of 10% off each additional class. Classes are limited to no more than 25 students. Students are socially distanced throughout the classroom.
NSB Jr.'s • Ages 6-8 • Wednesdays 4:30-5:30pm

Imaginations run wild as these young performers build self esteem and creativity through theatre games, body expression, dance, and singing techniques. Each class includes study in dance, music, and drama where each child's skill level is determined and further developed. Our talented team of coaches guides students through different activities and teaches techniques that ignite the performer inside!

$80 per Month / Classes start March 10

Singing Now • Ages 9-13 • Mondays 6-7pm

The main theme of this class is to learn more about the voice as an instrument and build the self-confidence to sing proudly. The curriculum is filled with FUN and creative exercises to learn the necessary vocal techniques; breathing, placement, harmonizing, blending, and basic music recognition. Each student's skill level is determined and further developed.

$80 per Month / Classes start March 8

Hip Hop Now • Ages 9-13 • Tuesdays 5:30-6:30pm

This high energy class allows participants to express their personal style through various Hip Hop techniques and the latest dance trends. Dancers develop musicality, creativity, listening skills and coordination. Perfect for students at any level. All music and moves are age appropriate.

$80 per Month / Classes start March 9

Acting Now • Ages 9-13 • Wednesdays 6-7pm

Acting is a necessary class for those interested in developing skills to enhance the quality of their performance. The curriculum is filled with FUN and innovative exercises, which include acting games, improvisational skills, and even acting out scenes from your favorite shows and movies! Perfect for beginners and intermediate young actors, this class provides valuable training and technique while also being tons of fun!

$80 per Month / Classes start March 10

The Jerel Dance Experience • Ages 14+ • Tuesdays 7-8:30pm

Award winning choreographer, Jerel Brown takes students on a journey through dance in contemporary Musical Theatre. Train your body and further your skills while exploring the modern musical stylings of shows like The Prom, Beetlejuice, Six, and more! Students will work to produce a concept video to be shared at the end of the season. Suitable dance wear and proper dance shoes are necessary.

$80 per Month / Classes start March 9

Scenes w/ Cynthia • Ages 14+ • Thursdays 7-8:30pm

Aspiring Actors unite to study the techniques used by professionals. Cynthia O'Brien, renown Acting Coach and Director, empowers and fully engages each student as they expand their own fundamental skills needed for success. Through exercises, improv and scene work actors have fun developing their instincts and confidence. The actors learn to relax, listen and react on stage while building a scene that encompasses depth of relationship, environment and character.

$80 per Month / Classes start March 11
Covid Protocol
A Critical component of NSB's return is following all Center of Disease Control (CDC) and Department of Children and Families (DCF) guidelines to ensure providing a safe environment for our students and staff.
All Children and Staff members will wear masks at all times.
All Children and Staff members will have their temperature taken and hands sanitized upon entrance to the facility.
All rooms, areas and items are sanitized regularly to assure all CDC safety protocols are in place.
There are no shared items. All students must bring with them a bag with masks, hand sanitizer, tissues, bottled water, pencils, and all other needed items required for class.
Social Distancing will be enforced in all classrooms (this means no physical contact between instructors to campers and campers to campers)
Class sizes are limited to assure safety and reduce possible exposure to the virus.
PLEASE DO YOUR PART TO HELP PREVENT THE SPREAD OF COVID
Prior to Attending Next Stop Broadway

Take your child's temperature every night for the 3 days leading up to classes and every day attending classes thereafter; log this for your own personal use. If your child has a temperature of 100.4 F or higher for any of those days, contact us in advance. Please also check other family members' temperatures as well to ensure optimum health on the first day they attend NSB.
To ensure your child's safety, you should reinforce proper hand washing techniques and the avoidance of face touching. Also the need to stay at a comfotable distance from everyone.
After registering you will receive a welcome email which includes the link to the Medical, Covid Protocol, and Release Forms which must be returned via email prior to child's attending classes.
All registrations, and tuition payments should be done in advance online; which will help to limit the amount of person-to-person contact when checking in and signing out students. Please email

[email protected]

or call 954-344-5991 for any questions you may have.

During Classes

All parents are to remain in their vehicles when dropping off and picking up children.

Dropping Off: Remain in your car and drive as far forward as possible in the front entrance driving loop and a Staff member will greet you to check student's temperature and sign them in (Please Note: If your child has a temperature of 100.4 F or higher, they will not be allowed to attend class that day). Please be sure your child is masked and another staff member will sanitize your child's hands and then lead them to their classroom. Older students who are arriving on thier own must also be masked, temperature checked & hand sanitized before allowed to enter the premises.

Picking Up: To assure your child's safe release, DCF requires, for identification purposes, that a sign must be placed in your passenger window with your child's name clearly marked. Remain in your car and drive as far forward as possible in the front entrance driving loop and a Staff member will escort your child to your car for pick up. Older students may leave the premises on thier own unless prior restrictions are reported to the NSB Office.

If anyone displays any symptoms of illness, they will be sent home until they have fully recovered. Symptoms include fever greater than 100.4 F, cough, difficulty with breathing or shortness of breath, chills, muscle pain, sore throat, loss of taste and smell, etc. All parents will be notified in the event that a child or employee exhibits symptoms.

After Attending Classes

Please wipe down all items your child brings home.
Encourage your child to use proper hand washing techniques with soap and water.
Periodically check your child's temperature throughout the week. If your child has a temperature of 100.4 F or higher, they should not plan to attend class until their temperature is back to normal for 72 hours.
Private Lessons
Perfect your craft with our team of professional coaches in a safe and secure environment. Students participating in private instruciton from March-May 2021 will have the opportunity to perform in our digitally pre-recorded end of season Recital.