The Academy 2019-2020
The Academy is proud to be a flourishing part of the Coral Springs/Parkland community and is designed to offer students 5-19 years of age the opportunity to learn and experience show business first hand. Studying during the school year is designed so each student can thrive in their training, become more involved, and receive individual attention. All of our classes culminate in full-scale Broadway style productions and recitals performed on a professional stage.
CLASSES RUN FROM SEPTEMBER 9, 2019 - MAY 2020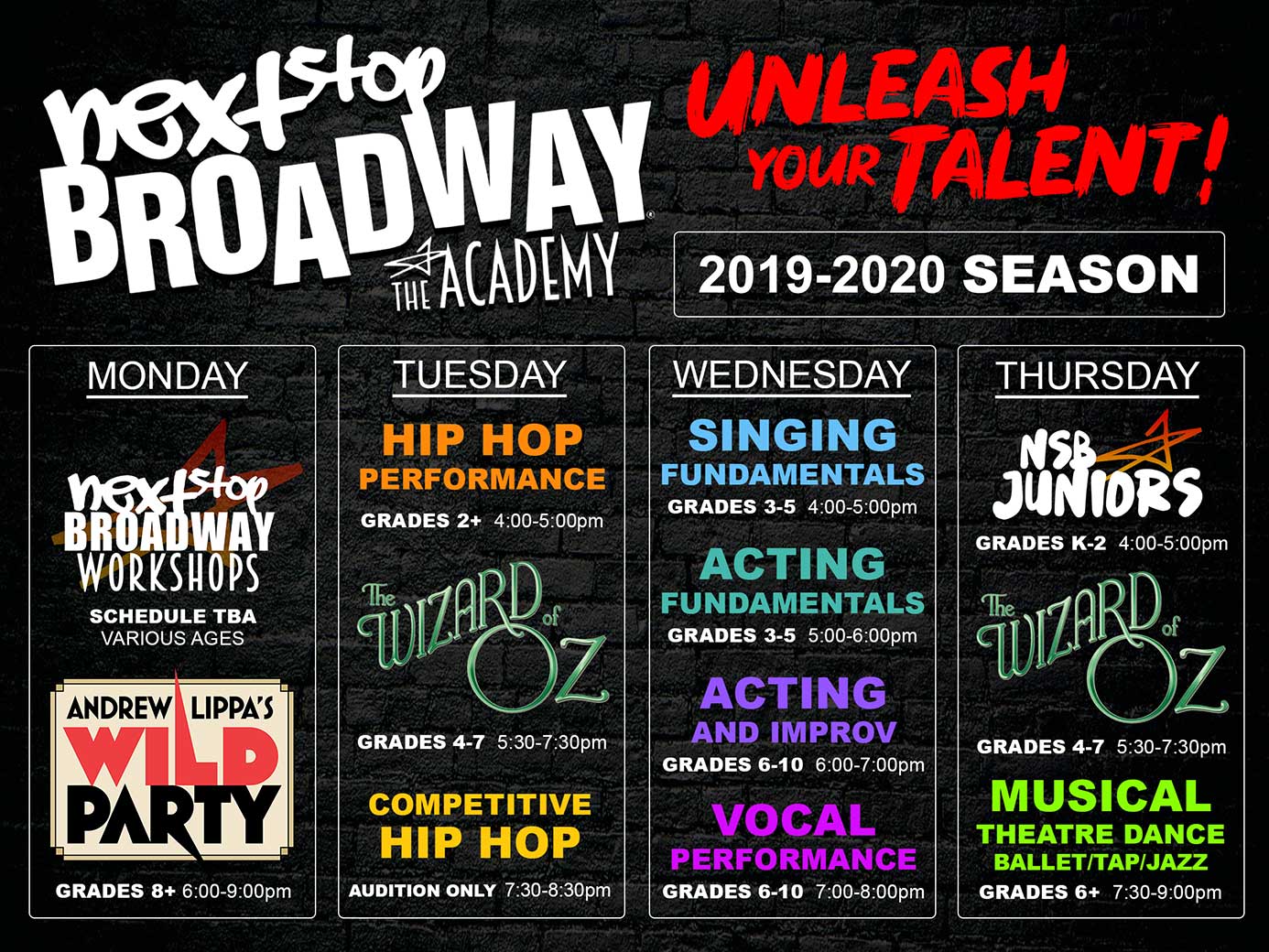 To Register:
Complete the paperwork below and submit to the NSB OFFICE or BOX OFFICE.
Email completed forms to:

[email protected]
Ways To $ave:
PAY FOR A CLASS IN FULL AND RECEIVE 10% OFF
SIGN UP FOR 2 CLASSES AND GET THE 2ND ONE 20% OFF
FAMILIES SAVE BIG...20% OFF SECOND CHILD TUITION
Ensemble Classes

These inspiring programs allow students to train with professionals & build self-esteem and confidence. Classes culminate with an end of season Recital. Recital Date: May 20, 2020 at 6pm
Singing FUNdamentals (Grades 3-5) Wednesdays 4:00pm-5:00pm

The main theme of this class is to learn more about the voice as an instrument and build the self-confidence to sing proudly. The curriculum is filled with FUN and creative exercises to learn the necessary vocal techniques; breathing, placement, harmonizing, blending, and basic music sight-reading. Each student's skill level is determined and further developed.

Tuition: $60 per month

Acting FUNdamentals (Grades 3-5) Wednesdays 5:00pm-6:00pm

Acting is a necessary class for those interested in developing skills to enhance the quality of their performance. The curriculum is filled with FUN and innovative exercises, which include theatre games, improvs, monologue work and character studies. Each student's skill level is determined and further developed.

Tuition: $60 per month

Acting & Improv (Grades 6-10) Wednesdays 6:00pm-7:00pm

This acting ensemble class will focus on the fundamentals of acting theory, the building blocks of modern acting, and the foundation of improvisation techniques. Students will create their own resources to become self-sufficient, intelligent, and intuitive actors. With focus on comedic timing, and preparing for the role you want.

Tuition: $60 per month

Vocal Performance (Grades 6-10) Wednesdays 7:00pm-8:00pm

Students work together with our instructors to create affective and meaningful songs performance vignettes. The staff guides them through open discussions, which initiate their collaboration on themes and musical pieces in pop, hip-hop, and musical theatre standards. Techniques taught include breathing, placement, harmonizing, blending, basic music sight-reading, and more! This group will have local performance opportunities in which each ensemble member is an essential contributor.

Tuition: $60 per month
NSB Juniors

Our introductory training program for our youngest students. NSB Juniors offers instruction for students in Grades K through 2nd and features lessons each week in acting, singing, and dancing! Recital Date: May 20, 2020 at 6pm
NSB Juniors (Grades K-2) Thursdays 4:00pm-5:00pm

Imaginations run wild as these young performers build their self-esteem and creativity through theatre games, body expression, dance, and singing techniques. Each class includes study in DANCE, MUSIC & DRAMA, where each child's skill level is determined and further developed. Our talented team of coaches guides our students through different activities and teaches techniques that ignite the performer inside!

Tuition: $60 per month
Dance Classes

The Academy introduces our NEW dance classes. Learn skill and technique while training your body and practicing movement. Recital Date: May 20, 2020 at 6pm
Hip-Hop Performance (Grades 2+) Tuesdays 4:00pm-5:00pm

Offering a structured method of learning various hip hop techniques while also promoting personal style and expression. Classes are full of fun and new choreography every week! With multiple performances locally encouraging students to strengthen their self-esteem and confidence.

Tuition: $60 per month

Competitive Hip-Hop (Audition Only) Tuesdays 7:30-8:30pm

Our AWARD WINING Competitive Hip Hop team! Train throughout the course of the season to compete in high-level dance competitions. Advanced students only. Those interested in Hip Hop Performance will be evaluated as to their skill level before being considered for the competition team. For audition information, contact the NSB Office: 954.344.5991.

Tuition: $60 per month

Musical Theatre Dance - Ballet/Jazz/Tap (Grades 6+) Thursdays 7:30pm-9:00pm

Dance is an essential part of Musical Theatre performance and BALLET, JAZZ, and TAP are invigorating techniques. The wide range of dance styles covered allows students the opportunity to connect technique with proper terminology. This class will cover the necessary approach through explosive choreography and professional instruction. Students will achieve a higher level of knowledge that is required for professional theatre and college auditions. Each student's skill level is determined and further developed. Suitable dance wear and proper shoes for each dance technique are necessary.

Tuition: $60 per month
Broadway Series

Our training programs are developed on an independent study format so students can flourish while improving their skills. The students attend classes, workshops, and rehearsals in each area of study: MUSIC, DANCE, and ACTING.
Casting begins in early November when our production staff has had the chance to assess the students' present capabilities. Everyone gets a role as either a lead, supporting, or ensemble member, which is a reflection of each individual's current abilities as they further develop their own style. Every cast member is important to the show's success and ensemble members should never feel slighted or less than important.
The show is used as a vehicle to teach techniques that are more intriguing and challenging. The most powerful achievement will be their performance in a full-scale Broadway style show at the end of the season, which can only be accomplished through consistent invigorating work and dedication.
Wild Party (Grades 8 - High School) Mondays 6:00pm-9:00pm

Workshops in multiple performance techniques by visiting professionals are one of the many opportunities offered in this class. Some of the Acting techniques taught include the following: characters and their connection to emotions, needs, and relationships. Vocal Training includes harmonizing, blending, music recognition and the emotional connection to the character. Dance techniques are emphasized to develop understandings of musical theatre performance.

An intriguing prohibition tale, steamrolling and roaring its way across the stage, Andrew Lippa's Wild Party was an Off-Broadway gem that garnered an array of industry accolades, including Drama Desk, Outer Critics Circle and Obie awards. Based on Joseph Moncure March's 1928 narrative poem of the same name, this darkly brilliant show features one of the most exciting, pulse-racing scores ever written.

In Next Stop Broadway's High School Edition, lovers Queenie and Burrs decide to throw the party-to-end-all-parties in their Manhattan apartment. After the colorful arrival of a slew of guests living life on the edge, Queenie's wandering eyes land on a striking man named Black. As the decadence is reaching a climax, so is Burrs' jealousy, which erupts and sends him into a rage. Naturally, mystery and mayhem ensue.. But..who done it?

SHOW DATES APRIL 30 & MAY 1, 2020

Tuition: $130 per month

The Wizard of Oz (Grades 4-7) Tuesdays & Thursdays 5:30pm-7:30pm

Students study performing on a twice a week format to reinforce retention and to allow for the best possible work envirorment for our busy and hard working students.

Techniques taught are a combination of traditional and innovative theatre. A strong emphasis is placed on character development, vocal training, dance techniques as used in musical theatre, and an overall fun and enthusiastic approach to theatre study.

Join us for The Wizard Of Oz, in which a Kansas farm girl travels over the rainbow to discover the magical power of home! When Dorothy and her dog are whisked away to the magical land of Oz, they follow the Yellow Brick Road toward the Emerald City to meet the Wizard, and en route they meet a Scarecrow, a Tin Man, and a Cowardly Lion among a host of other magical characters! Students train to be cast in rolls such as main characters, supporting characters, ensemble characters, dance & vocal teams, as well as scene crew. Every student participating performs in the show!

SHOW DATE MAY 14, 2020

Tuition: $130 per month
Private Instruction

Ages 8 - Adult. Appointments pending instructor's schedule. Please call 954.344.5991 for more information.
Private Voice

Private voice is a strong one on one study of the performer's vocal technique. It is a necessary class for those interested in developing the skills to improve voice and professional expertise. This class is recommended for anyone who is interested in singing. Private Vocal studies can also include preparation for Thespian competitions, either individual or group pieces. Private Lessons are an excellent opportunity to prepare for College and professional theatre auditions.

1/2 Hour Lessons: $40 per class

1 Hour Lessons: $70 per class

Private Dance

The wide range of dance styles (Tap, Ballet, Jazz) can be covered allowing students the opportunity to connect technique with proper terminology. These techniques are an essential part of the Musical Theatre Industry and the student will achieve a higher level of knowledge that is required for professional theatre and college auditions. Suitable dancewear and proper dance shoes are necessary.

1/2 Hour Lessons: $40 per class

1 Hour Lessons: $70 per class

Private Acting

Everything an actor needs to develop the skills necessary to succeed. You'll be prepared for anything from school auditions, districts, college interviews or agency calls. If you're ready for a career, private acting will teach you what you need to know to succeed in the industry. Private acting also includes preparation for Thespian competitions, either individual or group pieces.

1/2 Hour Lessons: $40 per class

1 Hour Lessons: $70 per class
Meet The Staff

Our talented and compassionate staff hails from such reputable institutions as AADA, AMDA, Boston Conservatory, Florida State University and are National Board Certified Adjudicators. Thier performance credits include Broadway, national tours, Disney, film & television and the Joffrey Ballet. Our staff has trained with the best: Baryshnikov, Meisner, Morris, Shurtleff, and more!
Cynthia O'Brien - Artistic Director

Cynthia is responsible for facilitating all activities of the Coral Springs Center for the Arts' youth theatre program. She has over 22 years' experience in youth theatre. Cynthia is a respected actress, director, playwright and producer. Her credits in youth theatre include being the Touring Director for Comedy Kids, a professional youth touring company which toured the United States and Canada. A resident teacher for the Los Angeles Shakespeare's Youth Program, the managing director of Little Palm Theatre, the creator of Youth Action Theatre, and Artistic Director for The Entertainment Group. Cynthia has written numerous plays written especially for children of all ages to perform.

Ms. O'Brien is a graduate from the prestigious American Academy of Dramatic Arts. She has directed over 130 productions in the last 25 years. Cynthia began her acting career in her youth at the age of 17 beginning in a production of Bye Bye Birdie, off Broadway. Her career excelled to include many national touring productions including A Chorus Line, Equus, Chicago and she is the original Rosie Pitkins from the acclaimed Jimmie Shine. Her performance credits include many productions in many of the regional theatres throughout the United States. She has studied with some of the infamous acting teachers including Sanford Meisner, Michael Shurtleff, Eric Morris, Viola Spolin and others.

Randy Koral - Communications Director

Randy has been a part of the Next Stop Broadway family since its debut in 2003. A born performer, he honed his skills in the first incarnation of the program at the age of 9. Shortly thereafter, he jumped at the opportunity to work for NSB and thrived as a counselor and continued to advance to managerial positions.

Currently, Randy is the Summer Camp Activities Director and serves as the Coordinator for the Youth Theatre Program, The Academy, under the guidance of the Artistic Director. Randy is a graduate of Florida Atlantic University with a Bachelor's Degree in Sociology.


Raquel Montesino - Music Instructor

Raquel Montesino has been teaching at Next Stop Broadway and the Academy since 2008, and performing since before she can remember! During her time at The University of Central Florida, she performed professionally at Walt Disney World in Orlando in such productions as High School Musical, Finding Nemo, and the Hoop-Dee-Doo Musical Review.

In addition to performing for various local theater's, Raquel has also utilized her talents as the resident Cabaret singer for The Center's Level 3 lounge. Raquel serves as one of Next Stop Broadway's musical directors in addition to teaching acting and voice techniques. Raquel is very excited to meet this years students and to start working with each of them to help bring out their inner most performer!

Jerel Brown - Dance Instructor

Jerel Brown is a South Florida based Performer/Choreographer. Jerel has done shows all over the US and Japan. Recent credits include Universal Studios Japan, MNM Productions and Slow Burn Theatre.

He has been with Next Stop Broadway since 2007. He has also choreographed many high school productions and competition pieces in Broward County and West Palm Beach. His students earning Superior Ratings at the District and State level. Jerel has won many awards for his work including Best Choreography at a National Performance Arts Festival.

Abby Nigro - Acting Instructor

Abby Nigro graduated from Florida Atlantic University with a BFA in theatre performance, having received training there in techniques like Chekhov, Stanislavski, and Fitzmaurice Voicework.

Her favorite credits include playing the Fool in King Lear, Mary Warren in The Crucible, and directing a production of Eric Bogosian's Talk Radio. She also instructs the Acting & Improv classes during Next Stop Broadway's Summer Camp and Academy programs.

Alix Roberts - Dance Instructor

Alix has had a passion for dance and performing since the age of 2. She trained with Emmy Award nominated choreographer Glenn Douglas Packard in the Untouchables Dance Company, giving her the opportunity to travel and perform at events throughout Florida.

She received a Masters degree in Education from the University of Florida and is currently pursuing her love for teaching kids dance at Next Stop Broadway. In addition, she dances and choreographs professionally for the Delray Beach Open VolleyGirls.

Sophia Beharrie - Music Instructor

Sophia Beharrie is excited to be a part off the production team once again. Ms. Beharrie has worked as the music director for the Teen Project at Next Stop Broadway for 12 years. In addition, she is the Director of Vocal Studies at Dillard Center for the Arts. Ms. Beharrie serves as the Chairperson of the Florida Vocal Association and adjudicates District events throughout the State of Florida.

She is a Soloist in the Tri-County area, and has served as a soloist/staff singer/section leader for The Master Chorale of South Florida. Ms. Beharrie has both bachelors and masters degrees in Music from Florida State University.

Dawn Ketz - Dance Instructor

Dawn has been the resident choreographer at Next Stop Broadway for 15 years. She is a graduate of the prestigious High School of Performing Arts in New York City, popularly known as the Fame school. Dawn continued her pursuit in the arts and went on to perform with the American Ballet Theater, Joffery Ballet, and the New York City Ballet. Additionally, Dawn was an original cast member of the Broadway production of 42nd Steet.

Dawn continues her love for the performing arts as an instructor with Next Stop Broadway. She enjoys instructing students for their college auditions and choreographing numerous productions.

Michael Scott Ross - Acting/Music Instructor

Michael is thrilled to be joining the team at Next Stop Broadway! He moved to South Florida in 2015 from Las Vegas where he was the lead vocalist in Donn Arden's Jubilee! at Bally's Hotel and Casino. Michael has been performing professionally for 15+ years in regional theatre, national tours and on luxury cruise lines. He has created his own cabaret My Broadway: The Roles I Could Play and portrays Dick Van Dyke in Practically Perfect: The Music of Julie Andrews.

Michael continues to work professionally throughout South Florida. You might have seen him recently in I Love You, You're Perfect Now Change (Man 2) and Avenue Q (Rod) at The Kravis Center. Michael is a proud member of Actors' Equity Association, Wagner College Alum and native New Yorker! It's time to prepare the next generations of talent to grace the theatres of the world!

Melanie Perkins - Music Instructor

Melanie Leibner Perkins earned her Masters in Musical Theatre from Boston Conservatory and Bachelor of Arts from the University of Pennsylvania. She has distinguished herself as an actress, singer, director, and teacher with her work in theaters in New York, Philadelphia, Boston, and South Florida. Favorite roles include Bare (Ivy), The Last Five Years (Cathy), Beauty and the Beast (Belle), Fiddler on The Roof (Hodel), Triumph of Love (Princess Leonide), Once Upon A Mattress (Winnifred), and The Comedy of Errors (Luciana). She originated the role of Jenny Jenkins in Lisa Loeb's world premiere musical Camp Kappawanna with City Theatre.

She has been a professional acting and voice teacher for over ten years and is a member of NATS. Melanie has directed and music directed over thirty productions and presented workshops on audition technique and acting the song to students of all ages.