Summer 2019
Let's go to the MOVIES! This Summer...Star in your favorite films LIVE on stage at the premier performing arts summer camp! Where memories last a lifetime...
Ways To $ave:
SIGN UP FOR ALL THREE SESSIONS & GET 1 WEEK FREE
FAMILIES SAVE BIG...20% OFF SECOND CHILD TUITION
The Prequel (Grades 1-8)
Ramp up to camp with The Prequel - our 2019 Pre-Camp! Enjoy a full day's worth of camp activities and perform in the 2019 Jamboree. All inclusive package!
The Prequel: 3 DAY PRE-CAMP - June 5-June 7

This summer we're introducing you to THE PREQUEL! Start your summer early and get in on all the action before we officially kick off the following week. During this time campers will get to take classes in Acting, Singing, and Dance. Train with our directors and workshop your summer audition pieces! Campers will also have the opportunity to perform at the 2019 NSB Jamboree (Summer Camp Orientation) and create their own unique costume!

Performance Date (Jamboree): Friday, June 7th at 6:30pm
Hours: Monday-Friday / 9am-4pm
Extended Care: 7:30am-9am / 4pm-6pm
Tuition: $200* / $99 down to reserve your spot by May 3rd

*Special ALL INCLUSIVE Pre-Camp package includes Extended Care hours (as needed) as well as preferred seating at the 2019 Jamboree. The Prequel inclusive package also includes the Friday Night Pizza Party prior to the Jamboree.
Youth Camp (Grades 1-8)
Campers are split into grade appropriate groups traveling to classes full of fun activities designed just for them in singing, dancing, acting, show arts, improv skills, and stage performance! Each session culminates in a full-scale, fully designed production, where EVERY youth camper participates.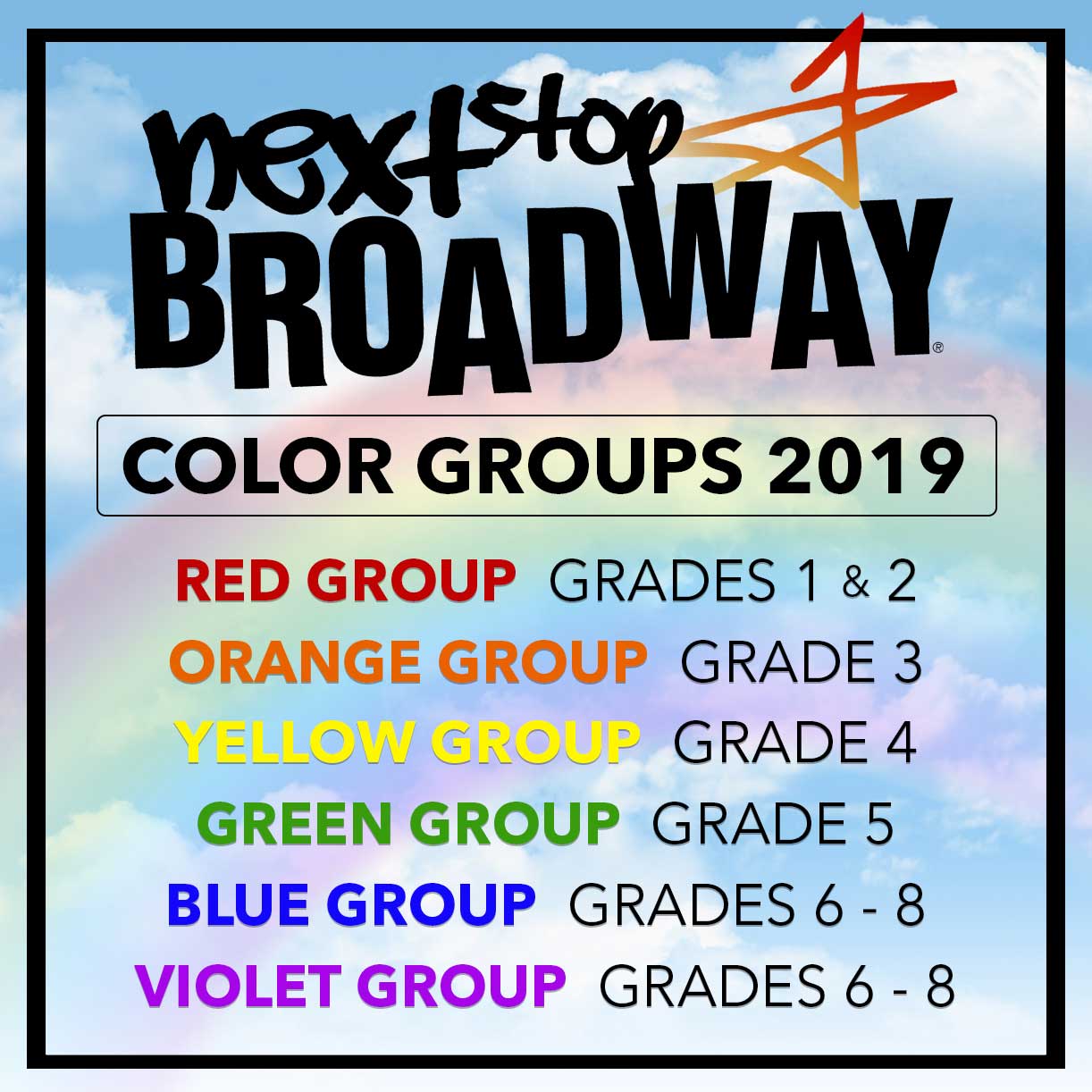 Session 1: FREAKY FRIDAY - June 10–June 28

When an overworked mother and her teenage daughter magically swap bodies, they have just one day to put things right again. Freaky Friday, a new musical based on the celebrated novel by Mary Rodgers and the hit Disney films, is a heartfelt, comedic, and unexpectedly emotional update on an American classic. By spending a day in each other's shoes, Katherine and Ellie come to appreciate one another's struggles, learn self-acceptance, and realize the immeasurable love and mutual respect that bond a mother and daughter.

Show Date: Friday, June 28th at 6:30pm
Hours: Monday-Friday / 9am-4pm
Extended Care: 7:30am-9am / 4pm-6pm
Tuition: $750 / $99 down to reserve your spot by May 3rd

Session 2: SHREK - July 1–July 19

Based on the Oscar-winning DreamWorks Animation film, Shrek The Musical is a Tony Award-winning fairy tale adventure, featuring all new and a sidesplitting book by David Lindsay-Abaire. Shrek brings all the beloved characters you know from the film to life on stage and proves there's more to the story than meets the ears.

"Once upon a time, there was a little ogre named Shrek...." And thus begins the tale of an unlikely hero who finds himself on a life-changing journey alongside a wisecracking Donkey and a feisty princess who resists her rescue. Throw in a short-tempered bad guy, a cookie with an attitude and over a dozen other fairy tale misfits, and you've got the kind of mess that calls for a real hero. Luckily, there's one on hand... and his name is Shrek.

Show Date: Friday, July 19th at 6:30pm
Hours: Monday-Friday / 9am-4pm *No Camp on July 4th*
Extended Care: 7:30am-9am / 4pm-6pm
Tuition: $750 / $99 down to reserve your spot by May 3rd

Session 3: MATILDA - July 22–August 9

Inspired by the twisted genius of Roald Dahl, the Tony Award-winning Roald Dahl's Matilda The Musical is the captivating masterpiece that revels in the anarchy of childhood, the power of imagination and the inspiring story of a girl who dreams of a better life. Packed with high-energy dance numbers and catchy songs. Children and adults alike will be thrilled and delighted by the story of the special little girl with an extraordinary imagination.

Show Date: Friday, August 9th at 6:30pm
Hours: Monday-Friday / 9am-4pm
Extended Care: 7:30am-9am / 4pm-6pm
Tuition: $750 / $99 down to reserve your spot by May 3rd
Teen Theatre Project (Grades 9+)
Teen Summer Theatre Project is a complete, pre-professional experience, set in an encouraging environment where EVERYONE participates in their very own full-scale, fully designed productions. Led by an incredible production team, the Teen Theatre Project also features industry workshops with visiting professionals, agent scouting, and more!
Teen Theatre Project: CHICAGO: HIGH SCHOOL EDITION - June 24-July 26

Being a part of the Teen Theatre Project is a great way to build confidence and develop your skills before the school year begins. You will train with a superstar team, workshop with visiting professionals, and get to perform for a visiting casting agent!

This summer, the Teen Project presents: CHICAGO: HIGH SCHOOL EDITION

Set in the legendary city during the roaring "jazz hot" 20s, Chicago tells the story of two rival vaudevillian murderesses locked up in Cook County Jail. Convicted and sent to death row, Roxie and another "Merry Murderess," Velma Kelly, vie for the spotlight and the headlines, ultimately joining forces in search of the "American Dream": fame, fortune, and acquittal. This sharp-edged satire features a dazzling score that sparked immortal staging by Bob Fosse.

Show Dates: Thursday & Friday, July 25 & 26
Hours: Monday-Friday / Weeks 1-4: 1pm-6pm, Week 5: 10am-6pm
Extended Care

Extend your camper's day to 7:30am – 6pm. Pre-Care: 7:30-9:00am After Care: 4:00-6:00pm
Cost: $15.00 per day
Pre-Pay: $40.00 per week / $10.00 per day
Any camper who arrives at camp 15 minutes prior to the start of camp or stays longer than 15 minutes after the end of camp will be placed in the Extended Care system and is charged for that day's rate.
Our Program closes at 6:00pm – if your child is not picked up by 6:10pm there will be an additional fee of $25.00 for every 15 minutes thereafter.
All campers must be signed in and out of extended care by a parent or guardian.
For your child's safety and security, please do not drop off campers without signing in with an NSB employee.
Lunch Program

Don't worry about a thing this summer; leave your child's lunch to us! We offer kid approved, budget conscious lunch options that your child is sure to love.
ORDER LUNCH ONLINE!

Click here to order a FULL WEEK'S worth of lunch right from our website!
Menu:

Monday: Papa John's Pizza
Tuesday: Jimmy John's Sandwiches (Turkey & Cheese or Ham & Cheese)
Wednesday: Hebrew National Hotdogs (x2)
Thursday: Doris' Spaghetti with Tossed Salad
Friday: Doris' Chicken Tenders with Carrots & Celery

*Grilled Cheese or Peanut Butter & Jelly are offered daily!*

** Current menu may be subject to changes **

When & Where:

Campers are placed into color groups based, in part, on their age. The color group rotates to the lunch room where they comfortably sit at large tables. Each lunch period is about 30 minutes long, allowing enough time to eat and clean up.

Snacks:

Snack Intermission - 2 Times Daily. Either bring from home or purchase items at the concession stand ($2/each).

Mid-Morning Snacks: "Parent friendly" options containing healthy snacks
Afternoon Snacks: "Campers choice" options with popular treats

Price:

Lunch is $8 per day. This includes the lunch choice of the day and a drink. Additional snacks can also be purchased during Lunch Break for $2/each.

How Do I Pay? / Where Do I Pay?

Every camp day, lunch forms are collected in the Theater Lobby. You must turn in the form by 9:15am to order from the full menu.

Pre-Order: Lunch forms must be turned in by the Friday prior to the week you are ordering for to qualify for orders from the full menu. After 9:15am - same day orders are subject to a limited menu.

All payments and lunch forms must be handed ONLY to the Lunch Supervisor who will be in the Theater Lobby from 8:45am-9:15am every morning beginning on June 10th. In order to avoid late or lost forms, please do not give money or lunch forms to any counselor, the NSB Office, or the Box Office. If you give your child a form to bring in, please make sure they go directly to the lobby as soon as they arrive. If you have any questions or concerns the Lunch Supervisor can be reached daily at 954-340-5006 between 9:45am and 11:00am and between 2:00pm and 3:00pm.
Merch

Get your Summer Camp Swag with our Next Stop Broadway merchandise! Purchase online and pick up during camp. Show everyone your NSB Pride! Also, you can NOW purchase Show DVD's and Digital Show Files ONLINE!
Merch List

2019 Peace/Love/NSB Tie Dye Shirt - $15/each
NSB Tote Bags - $5/each
Custom NSB Water Bottle - $5/each
NSB Lanyard - $3/each
Digital Show Files - $40/each
Show DVD's - $20/each
Vintage NSB Shirts - Available on show nights
CLICK HERE TO PURCHASE NSB MERCH
Activities Department

Spirit Rally X-treme
A weekly Friday event. An all out camp pep rally featuring performances for campers by campers. With all new integrated technology that brings the rallies to a new level of extreme. This year features brand new, exciting themes that are sure to make everyone feel like the superstar they truly are. Group winners of each rally will receive an ice cream party at lunch, in addition to a V.I.P. Activities party in their honor.
Dress Up Days
If it's a Wednesday, then it must be dress up day! This summer we present a fresh new batch of dress up day themes that are sure to entertain and unite the camp. All themes can be accessible through you and your family's closets! Two winners from each group will be chosen, and featured in the Spirit Rally, in addition to receiving a special certificate. The wackier and more imaginative, the better!
Counselor / C.I.T. Applications

If you are energetic, responsible, passionate about the performing arts and work well with youth, you're in the right place!
All Forms Must Be Filled Out Completely / Deadline: March 28th
Counselor In Training (CIT) Program:

These coveted positions are available to anyone over 16 years of age (grades 10+); unless participating in the Teen Summer Theatre Project. The time spent as a CIT volunteer may be used as High School required service hours. If interested each applicant must fill out a CIT application including a recommendation letter and go through an interview process. Then if accepted, they must attend mandatory training sessions, staff and orientation meetings.

Counselor Program:

Applicants first go through an interview process. If accepted, counselors must attend mandatory training sessions, staff and orientation meetings. All Counselors (under the age of 18) must first volunteer as a CIT prior to joining the NSB staff.
Scholarship Information

The Center is proud to offer scholarships to young people interested in studying performing arts at Next Stop Broadway. Awards are used to offset tuition for attending Next Stop Broadway during the summer as well as training during the school year with classes in singing, acting, dance and performance. Scholarships are awarded based on three criteria: merit, financial need and talent. If interested each applicant must complete the scholarship application packet and go through an audition process.
Scholarship Application Packets must be filled out COMPLETELY and turned in to the Next Stop Broadway Office or e-mailed to: [email protected]
Deadline: March 22nd, 2019
Parent Volunteers

NSB staff members are creative individuals who care about children and the arts. They are students, educators, performers, artists and professionals with diverse backgrounds and experience who share a common interest in nurturing, supporting and teaching young people in a non-competitive contented environment. If you are interested in becoming part of the NSB Parent Barter program, please complete the application below: